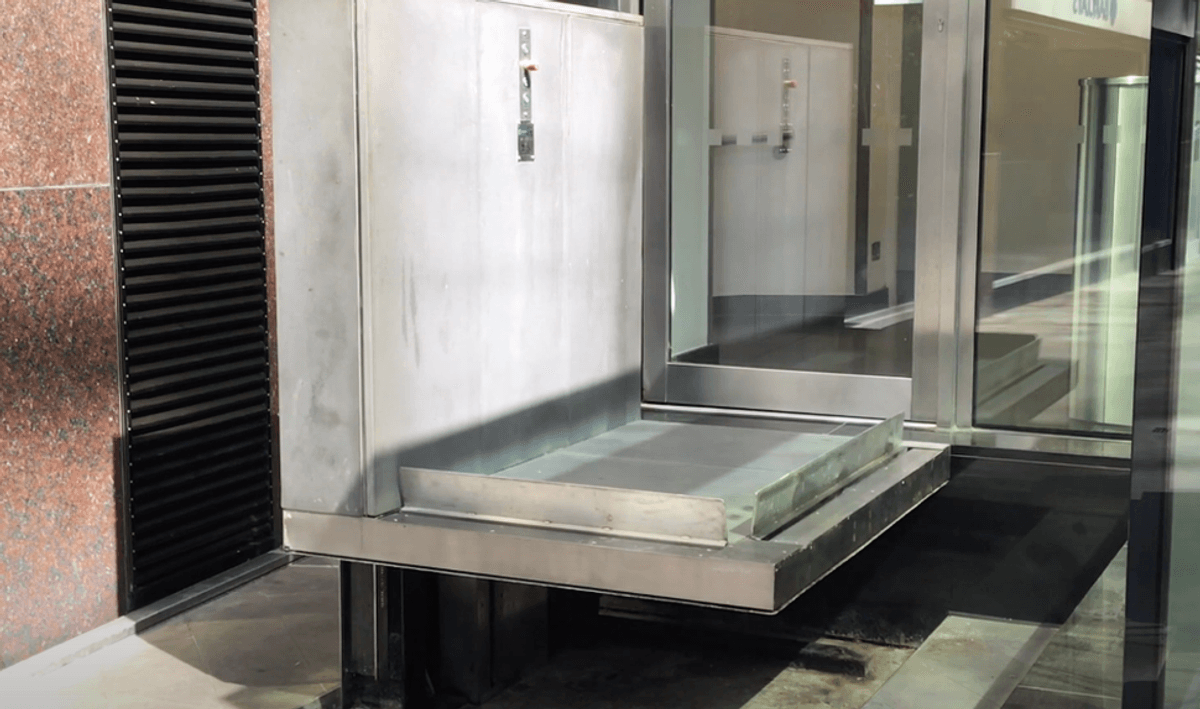 We have designed and manufactured a new lift type. This lift is called The Portobello Wheelchair Lift and it is designed to sit in a pit depth of 100mm making this product the shallowest we offer. This is great for buildings with limited pit depth that still want to offer disabled access to their visitors.
Here are the dimensions for our new wheelchair lift:
Minimum horizontal pit length

N/A

Minimum platform size

1533mm x 1203mm

Maximum rise

999mm

Minimum pit depth below lower landing

90mm + Cladding
Features
The Lift
The Portobello Wheelchair Lift has toe guards that engage before the lift has reached 200mm so to conform to British Standards. Please see On Lift Barriers for more information on the required wheelchair lift barriers.
The lift table can be made to accept any cladding, the thicker the cladding the deeper the pit depth.
Nominal Useable Platform dimensions for this lift can vary due to site requirements, however they have minimum dimensions of:
1400mm (l) x 900mm (w) This does not include the vertical drive mechanism or the space required for the wheelstops.
The vertical drive mechanism can be clad in whatever material the client specifies
Please click on The Lifting Actuator link for more information on the mechanism used to raise and lower the stair lift.
The Upper Landing Barrier
When the wheelchair lift rise is above 500mm then an upper landing barrier is required. This example shows the existing door as the upper landing barrier however our standard gate or rising barrier can be used.
Please click on the following link for more information on the Upper Landing Barriers
System requirements
The Portobello Wheelchair Lift houses a touch sensitive pan below the wheelchair lift table that stops the travel of the lift when an obstruction is detected therefore there are no bellows or skirts to conceal the area below the wheelchair lift in this example. We can however add a skirt but the pit depth will increase.
Please see Concealing the underside of the lift for more information.
For details on the power supply please see the lift power supply.
For general details on the pit depth please see the lift pit.
If the surrounding area presents a crush zone the lift table can be fitted with safety edges to detect an obstruction. Please see Crush hazards surrounding the moving lift for more information.
Please see The Sesame Stair Lift Controls for more information on the controls for this style of lift.
Variations to the Portobello Wheelchair Lift
This wheelchair lift can allow the Sesame retracting stairs to extend over the lift table. An example of the retracting stairs but with a standard wheelchair lift below can be seen here: Kensington Stairlift in London 1052
Check out our new Portobello Wheelchair Lift In Action