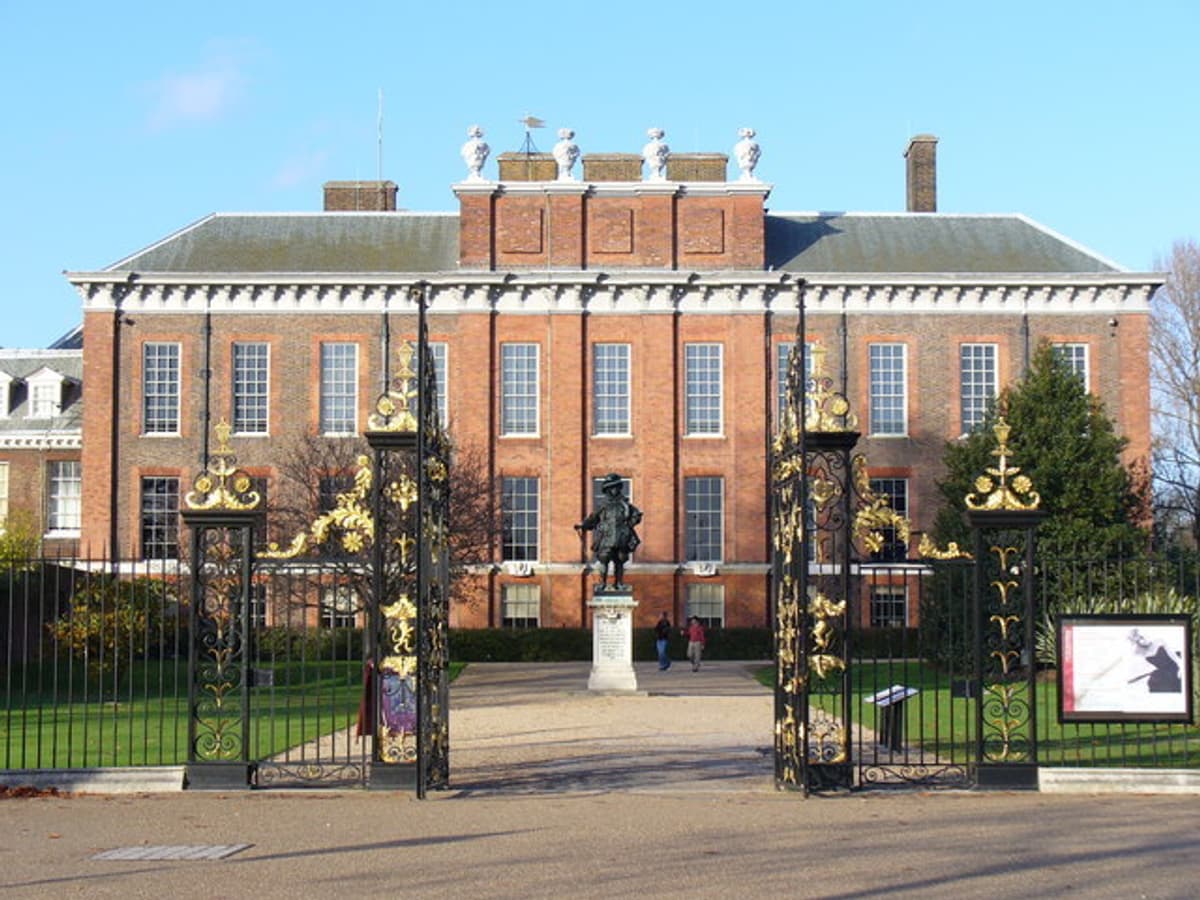 The Equality Act 2010 requires all buildings to have disabled access. There is a misconception that Listed Buildings are exempt from requiring wheelchair access, due to the historic nature of the building. That is incorrect.
Here are 10 easy steps to enable wheelchair access into all buildings, especially Listed Buildings.
1. Flat and Level Access.
By far the easiest way to achieve wheelchair access into every building is flat and level access i.e. no steps. This is the preferred option of Planners, Historic England and Historic Environment Scotland. So if your building can allow disabled access through the front door at a level surface, this is the ideal solution.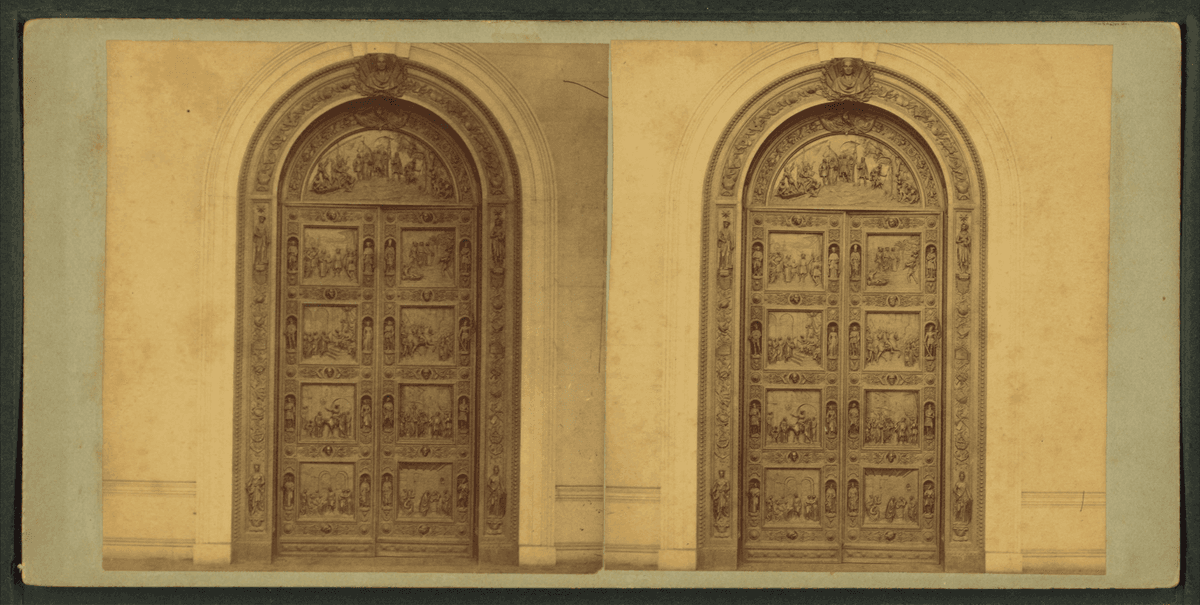 2. Temporary Ramp
The Equality Act 2010 requires 'reasonable adjustment' to buildings to enable disabled access. So if the building is perhaps a privately owned cafe in a Listed Building, then a temporary ramp would be suitable and would comply with the Equality Act 2010. This is a cost effective solution. The temporary ramp must be safely stored and ready to use immediately as required. The temporary ramp must not exceed a gradient of 1 in 12.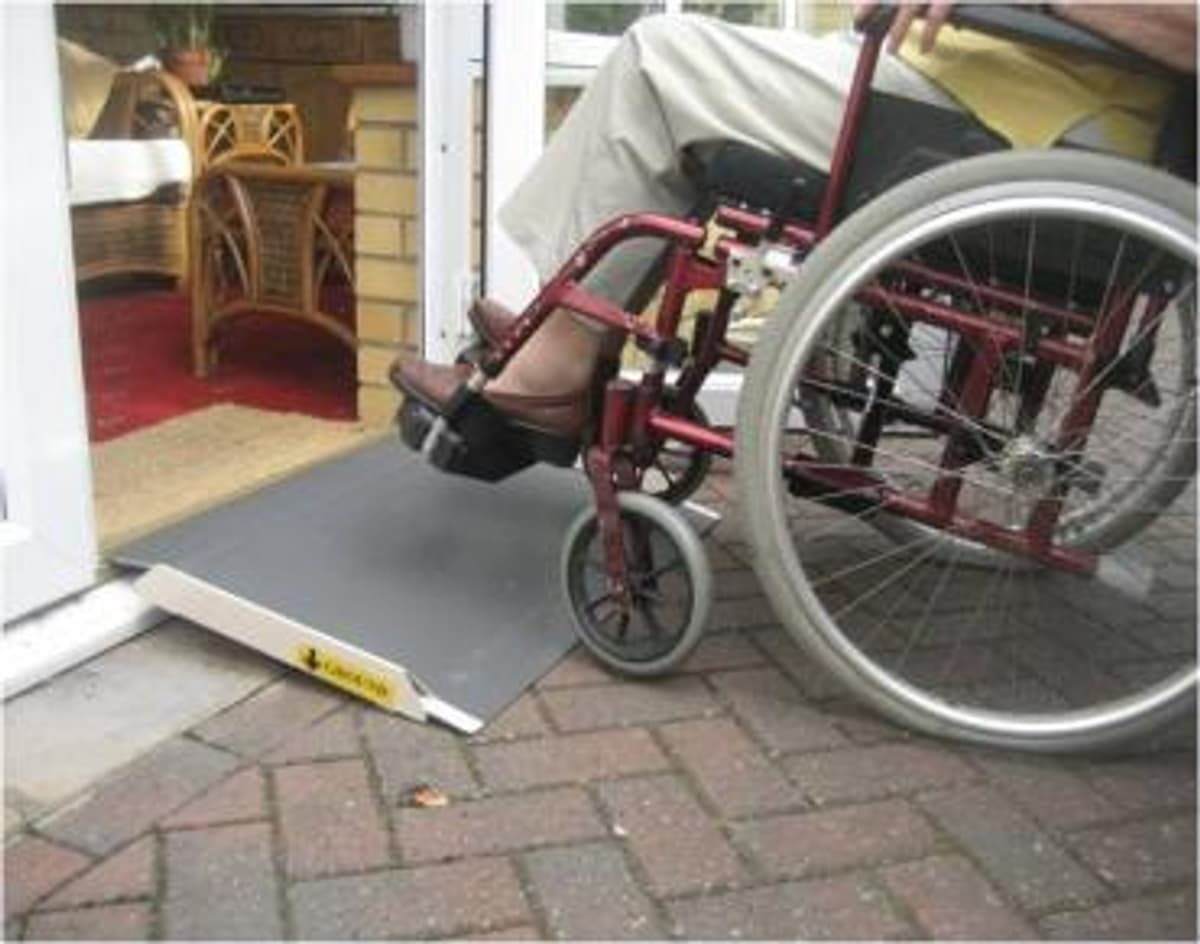 3. Semi-Permanent Ramp
A semi-permanent ramp is a good solution for wheelchair access, assuming there is the space. The rise must not be more than 1 in 12 gradient. So for each 100mm rise, the ramp must be 1.2m long. The ramp must not encroach on a public pavement without prior permission from the Council. The semi-permanent ramp must be inspected regularly to ensure its safety. The turning circle (if the ramp turns on itself) must comply to British Standards so wheelchairs and mobility scooters can turn easily on the ramp.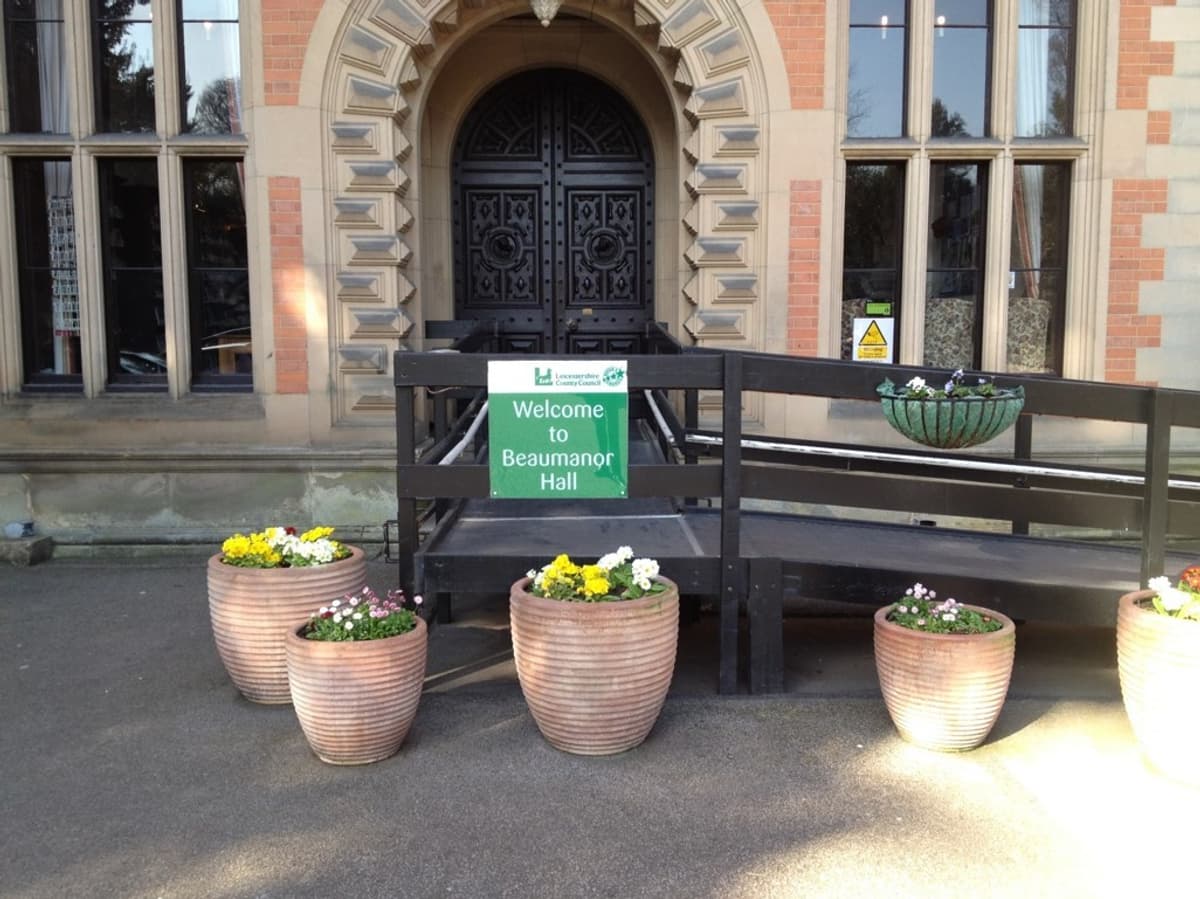 4. Permanent Ramp (Shallow Gradient)
Permanent ramps can be seamlessly integrated into the architecture of the building using clever design. This is the wheelchair access at Victoria and Albert Museum London (Grade I Listed) and is a great example of an integrated access ramp.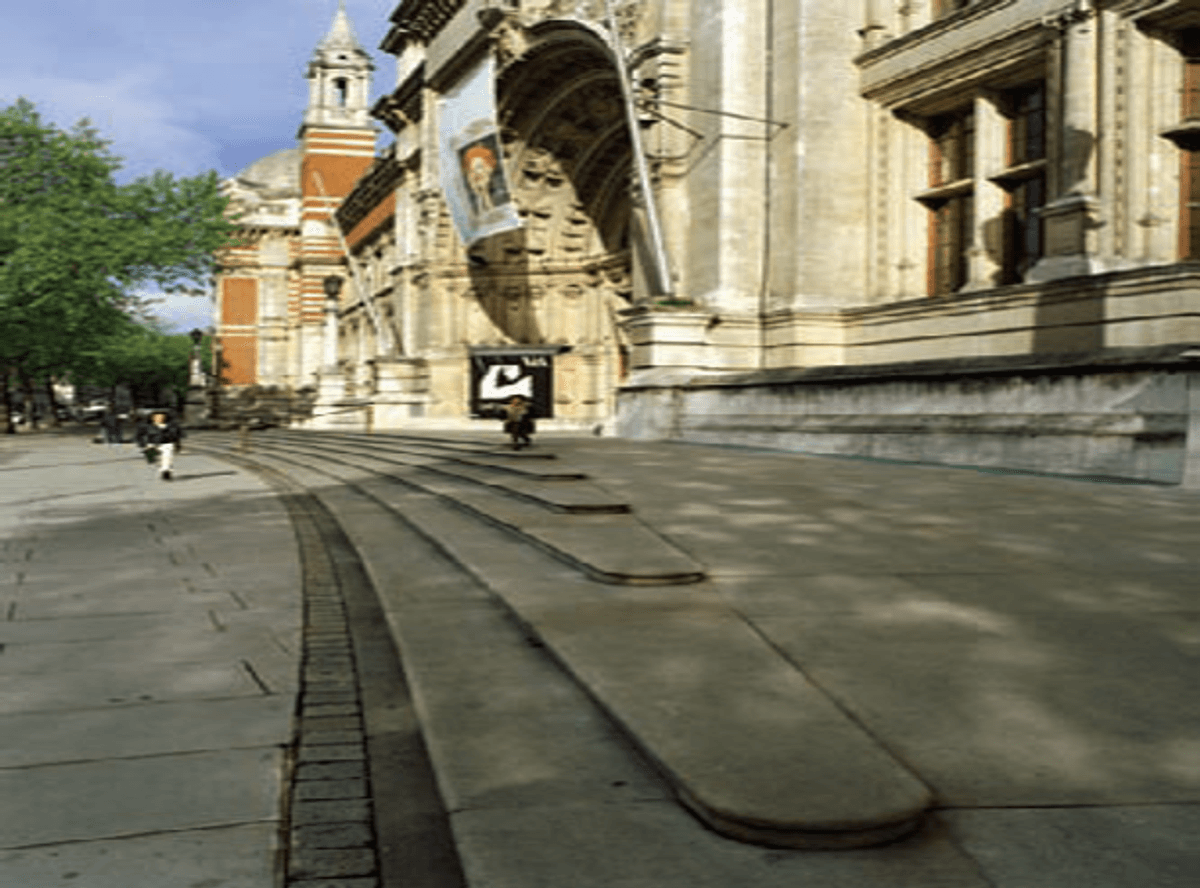 5. Permanent Ramp (Steeper Gradient)
Permanent ramps with steeper gradients can also be design to compliment the architecture of the building. This permanent ramp is at Royal Academy of Arts (Grade II* Listed) and is a lovely example of a permanent ramp with glass handrails.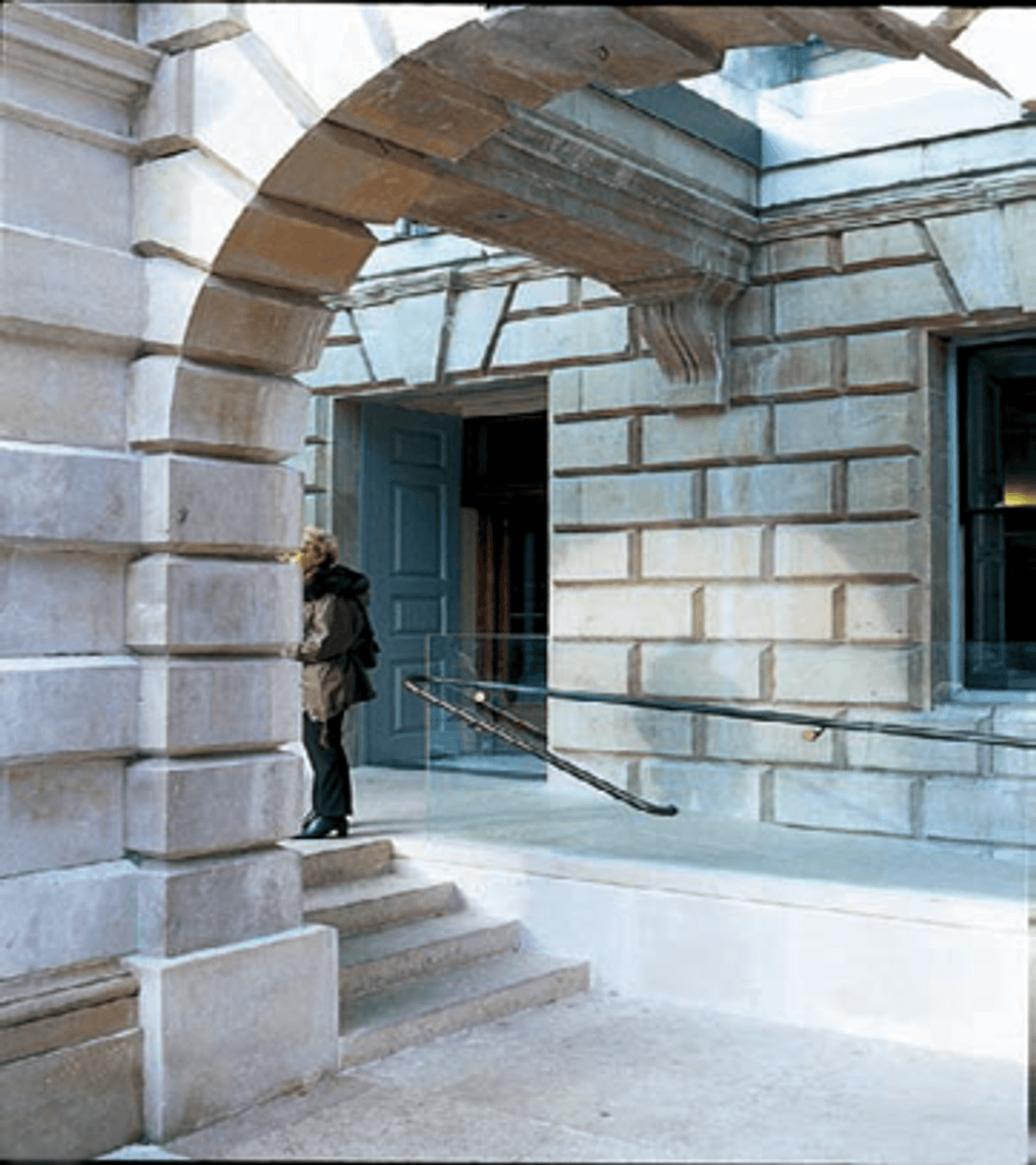 6. Platform List with rise less than 1000mm
British Standards have different rules for lifts with rises less than 1m and lifts with rises greater than 1m. Rise is defined as the change in level from lower landing to upper landing level. Platform lifts with rises less than 1m either require no wheelstop or a wheelstop of 100mm.
This short rise platform lift is a hidden wheelchair lift that blends seamlessly into the reception area of this office block.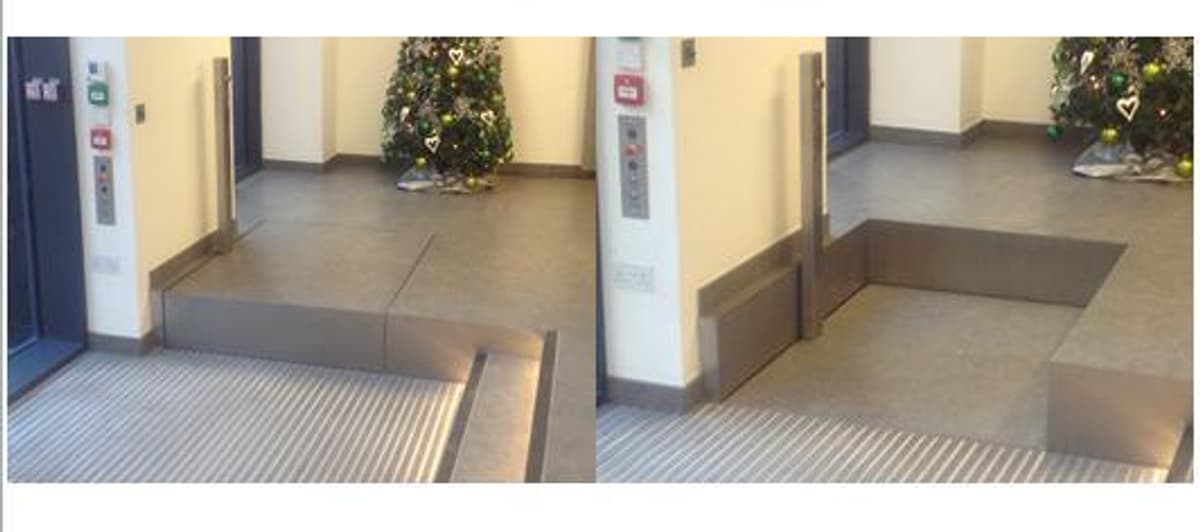 7. Platform Lift with rise greater than 1000mm
British Standards requires platform lifts with a rise over 1000mm to be fully enclosed, ie the wheelchair user must be protected by a barrier which surrounds them by 1100mm. Sesame Access lifts make these barriers discreet by having them rise magically from below lower landing level, to safely protect the passenger. All Sesame Access barriers have a patented safety mechanism, whereby the barrier will immediately reverse if it hits an obstacle e.g. a foot.
Sesame Access platform lift at London Guildhall (Grade I Listed Building)
8 Short Rise Retracting Stairlift
Sesame Access Systems Ltd has a patented range of retracting hidden lifts which can be successfully used in Listed Buildings. Sesame lifts have been approved by Historic England and Historic Environment Scotland, in many Listed Buildings across the UK.
The Sesame lift can be clad in whatever material the Client and Architect requires, e.g. stone, marble, wood, carpet. Each Sesame lift is built bespoke so can incorporate features to compliment the building e.g. LED lights, designed to work around historic pillars in the building etc.
Horizontally Retracting Wheelchair Lift in Marylebone London
9 Horizontally Retracting Stairlift rise greater than 1000mm
Sesame also manufactures retracting stairlifts for rise greater than 1000mm. These are fully enclosed to comply with British Standards. The Sesame hidden lift in the video below is at Knock Basilica, Co Mayo Ireland. The specification was to install a discreet wheelchair lift into the circular alter, clad in marble, but the steps had to be flush and plumb when retracted (to avoid finger traps).
Horizonatally Retracting lift at Knock Bailicia, Ireland
10 Vertically Retracting Wheelchair Lift
Where space under lower landing level is restricted, Sesame Access has designed wheelchair access solutions which fit into limited spaces.
This vertically retracting wheelchair lift only requires 200mm space behind top step riser.
This Sesame lift was installed in a private residence in Edinburgh and was featured in a BBC2 Architect's documentary called Building Dream Homes.
The Sesame lift had to be designed to integrate with the sloped pavement to the property. The Client wanted the upper landing step to be big enough for her heavy electric bicycle to be transported. The Sesame lift was linked to the Client's front door, so the front door opened automatically when the lift is safely at upper landing level.
Private Residence Edinburgh (Category A Listed)
For any further questions on Disabled Access into Listed Buildings, please review our Product Selector on www.sesameaccess.com, or contact Sesame on 01784 440088.