Alex Vásquez originally posted a video of him using our lift at the Fitzroy Hotel on his TikTok account @thewheelsblog. We soon discovered it on our company 'for you page' and were delighted to see how our product had been shared and loved by millions! It is great to see people appreciating the design and access available at the Fitzroy Hotel.
We were determined to reach out to Alex and thank him for the exposure he had generated for our product and brand. With luck we spoke via Instagram and arranged a Zoom call to get to know each other and answer some questions.
We discussed the difficulties Alex, and many other wheelchair users face when living in large cities like London.

Tell us a little bit about yourself and experiences?
I am from Costa Rica and became an activist at 15 years old for people with physical disabilities and also the LGBTQ+ community. My main focus is not only physical access but also access to education, sexuality and jobs. I think everything has to do with everything, it is intersectional for sure. One thing I have noticed about London is that it has been ranked one of the most accessible cities for wheelchair users. This was one of the reasons I decided to come here and study. I am a Chevening Scholar which means I am funded by the UK government. I am studying a masters in digital culture at King's College. I studied marketing at undergraduate level. I am trying to translate my activism to digital media as it's the most immediate thing I can do to influence people's lives while also delivering a good message. You can see that my tik tok is just fun but unlike other tik tok accounts I try to have a message.

Going back to London and the accessibility it offers is interesting as although it's ranked one of the most accessible cities, I have still experienced lack of access in many venues. For example, the other day I wanted to try a new way of dating and find other things to do and meet people. I found out about this 'speed dating' event and thought it was a little out of my comfort zone however lets try it out. They called me a week later after applying to tell me it was on the second floor and the venue had no access. They also went on to say I was the first gay man in a wheelchair applying here. I thought this tells a lot about society as a whole.


"My main focus is not only physical access but also access to education, sexuality and jobs. I think everything has to do with everything, it is intersectional for sure"
How is it still acceptable for places to be inaccessible even with the Equality Act etc?
I think what happens is the law is there but there is nobody to enforce it and ensure that it happens. Therefore, what's the point of it? It is then left for wheelchair users to sue and that requires a lot of money. I think that's the thing about the US, it has a lot more access to venues because they know their culture allows for a lot of people to sue and therefore they do not want to get into that. It is like a prevention thing.

Besides that, I love music, Social Media and TikTok.

Do you find studying in London accessible and easy?
It is easier for sure. The admission process was better in the sense that they'll ask the questions that need to be asked regarding accessibility. But once you're here, there isn't much contact with the students who have disabilities. For example at my university, King's, there is a department for disabilities which I have spoken to once since September and that was it. I think in my university back home they were far more in touch with you and made activities and social events for people with disabilities. Whereas here they leave all the social events to the students and I don't think that should be the case as we are studying.

However, in terms of physical access, my experience of applying for residence was not that good. Well, where I live now is great, it is called 'Goodenough College'. However, it is not part of the university. While applying, I did apply to one residence which was part of the University of London network and this was called Garden Halls. They made me apply in a separate process from everyone else which I believe is sometimes a good thing when it means you get a preference in terms of room suitability. However that was not the case this time. They only made me apply separately for me to wait 3 months longer than everyone else and I assume a person without a disability got the room which was accessible. Therefore I was left without anything, I had nowhere to live and had to write a strongly worded email in hope of finding somewhere to live and be able to study. In the end they were like we found something for you, but why after the angry message and not before? However, I have no complaints about this current accommodation.

Another thing I want to mention is the fact that I am an international student with a disability has not always been acknowledged. For example, benefits for people with disabilities are hard to access. The freedom pass process was great, apart from sending off the actual letter. However, when I applied for the railway card I was rejected as I could not apply if I could not give proof of my disability as a government issued letter. E.g the disability allowance. I am an international student so I am not able to get that benefit. I did receive a letter for the scholarship from the government which says that I have a disability yet they still rejected it.

"I had nowhere to live and had to write a strongly worded email in hope of finding somewhere to live and be able to study"
What types of buildings do you struggle to access the most?
What I call the sexual exploration venues. Anything that has to do with a space where you can meet people in the theme of romantic and sexual interest. It is always the worst. Like restaurants are usually very standardly accessible but pubs, clubs and other social venues are not.
Do you think offering modern, reliable and discrete disabled access makes a difference to the user experience?
It isn't black and white. I mean I did feel very excited and dignified to be able to use an aesthetically pleasing device. However, I was not aware that it existed until my friend asked reception, however this may be more of an issue on the hotels side. But once we knew it was there it was great.

"I did feel very excited and dignified to be able to use an aesthetically pleasing device"
What did you like most about our lift opposed to other lifts you have used?
I felt like the lift did not stand out in a bad way from the aesthetics of the hotel and that was pleasing. Normally, when I go up in a lift somewhere else I usually feel isolated from the environment and culture but in the Sesame Access Lift I felt as fancy as the people going up the stairs.

"I felt as fancy as the people going up the stairs"
I feel like being able to share my life and vulnerabilities and thoughts on the one thing I feel very proud of which is my disability, makes it easier to go day by day without having discrimnations affect me deeply. Being able to do this inspires me.

What challenges have you faced being a wheelchair user?
Not only access to spaces but the consequences of the lack of access to that space generates. For example, I have tried to go on dates with people and invite them for coffee. However, I did not grow up calling and asking if these places were accessible and I have experienced a lot of unpleasant surprises of them not being accessible. This means I have to change the plan and let the other person know that I struggle, which isn't something I want to let them know on the first day we meet.

I feel like disability in general is about the different barriers you have to break in order to achieve what other people just do on a normal basis. It is also about proving to everyone you can do these things in a different way. I think disability makes you constantly have to be vulnerable which can be exhausting and draining.

Access goes beyond a ramp and elevator. Once you go through the elevator you still have to deal with the inaccess of people, It is a double and triple thing which adds up. The most important accessibility, aside from ramps and lifts as they should be standard, is when people actually ask questions about accessibility as that is how we all learn about disabilities and peoples experiences.

What city has been the most and least accessible for you?
London has been the best so far. The least accessible is probably Mexico City. I was there for a week and encountered a lot of issues.

What are 3 things which are most important to you in regards to disabled access?
Reliability, easy to operate, wide enough to fit a wheelchair, scooter and bike attachment.

How did you come across the Fitzroy hotel?
We are ⅔ blocks away so I go past every time I go to university. I have always wanted to go inside the hotel for drinks and so this happened.

Another thing that I should mention is that the video has enabled me to apply for the TikTok creator fund which has meant I can make money from my posts.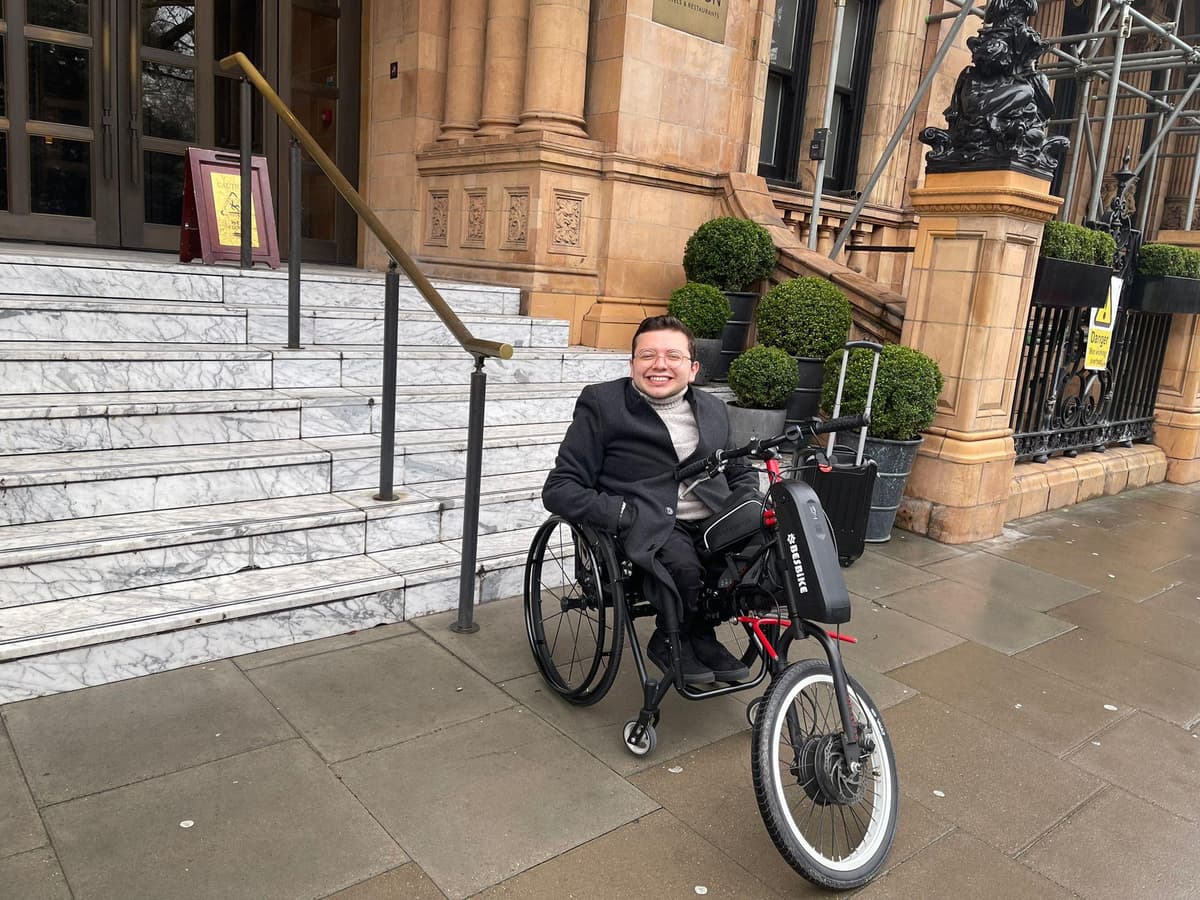 Finally, why did you film the Tik Tok video that went viral?
It was the very first time I saw a lift that was so uniquely blended with elegance that offered access so I asked my friend to film me using it. It was a surprising thing for sure. I first posted the video on twitter, then after a month I needed to post on Tik tok so I saw my camera roll, posted the video, went to sleep and woke up to 100k views. I have since gained over 15k followers which for me is a lot. I am now trying to retain these followers.

We would like to thank Alex for sharing his wonderful experience using a Sesame Access Lift with the world.
Find Alex below:
Instagram: @thewheelsblog
Twitter: @thewheelsblog
TikTok: @thewheelsblog