Sesame Access hosted Samford University USA undergraduates
A delegation of Samford University USA undergraduates visited Sesame Access. The students are majoring in Law and Medicine, but they are also studying Kinesiology (the study of human movement) during a semester in London.
The pupils learned about Sesame Access after seeing a video of our access lift at the Kimpton Fitzroy Hotel in London. The students wanted to visit Sesame Access to learn more about the organisation and its approach to implementing accessible solutions.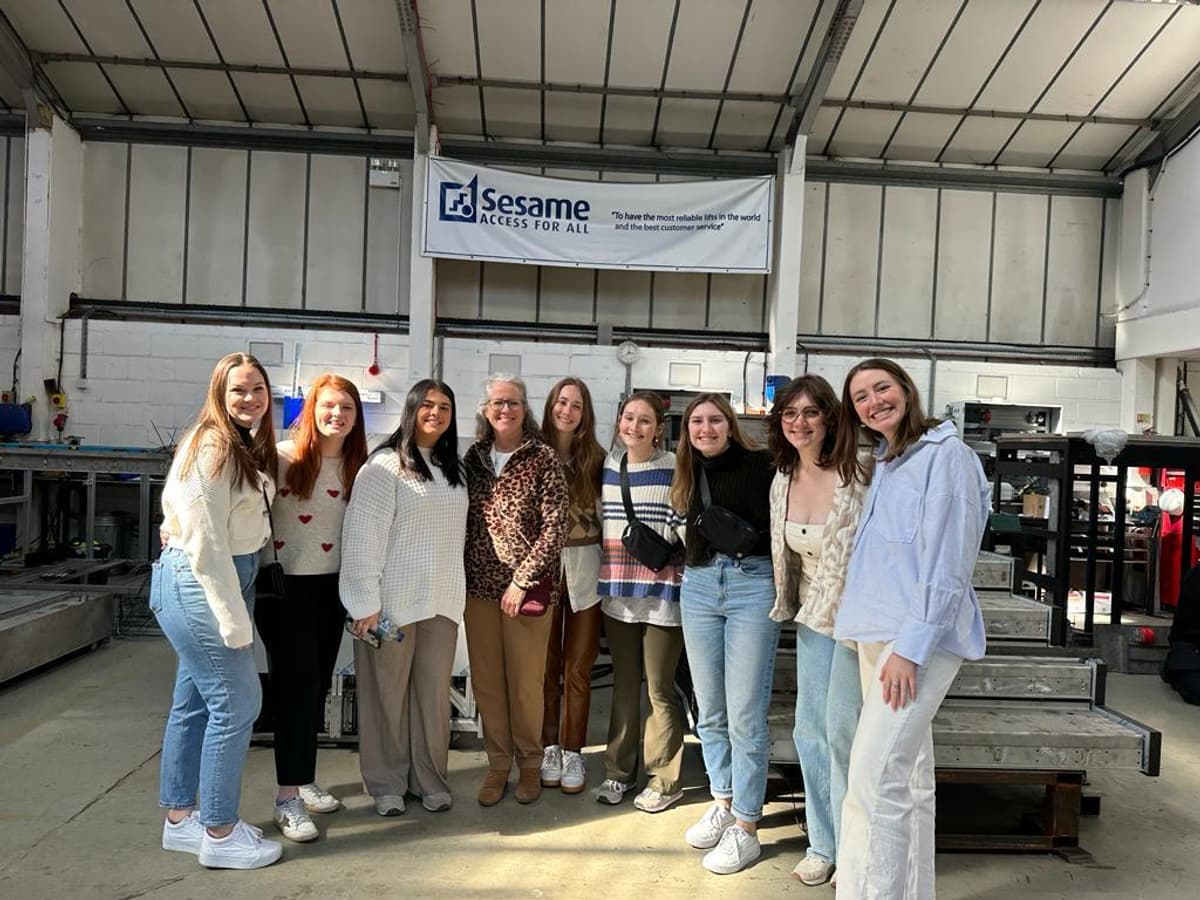 The trip to visit the Sesame Access workshop & The Kimpton Fitzroy Hotel
Sesame Access invited the students for a tour of the workshop where the access lifts are designed and manufactured, in West Byfleet. The following week Sesame Access arranged a viewing of the access lift at Kimpton Fitzroy Hotel so the students could see the lift in person. This visit was accompanied by Alex Vasquez (Online Content Creator for human rights), who's video of the Sesame Access Lift at the Kimpton Fitzroy, has received over 25m views worldwide. The students questioned Alex about his thoughts on accessibility and how young people navigate the world and their social life while using a wheelchair.
Kimpton Fitzroy also kindly gave us a tour of their beautiful hotel, including the statue of 'Lucky George', whos brother 'unlucky George' sunk with the Titanic.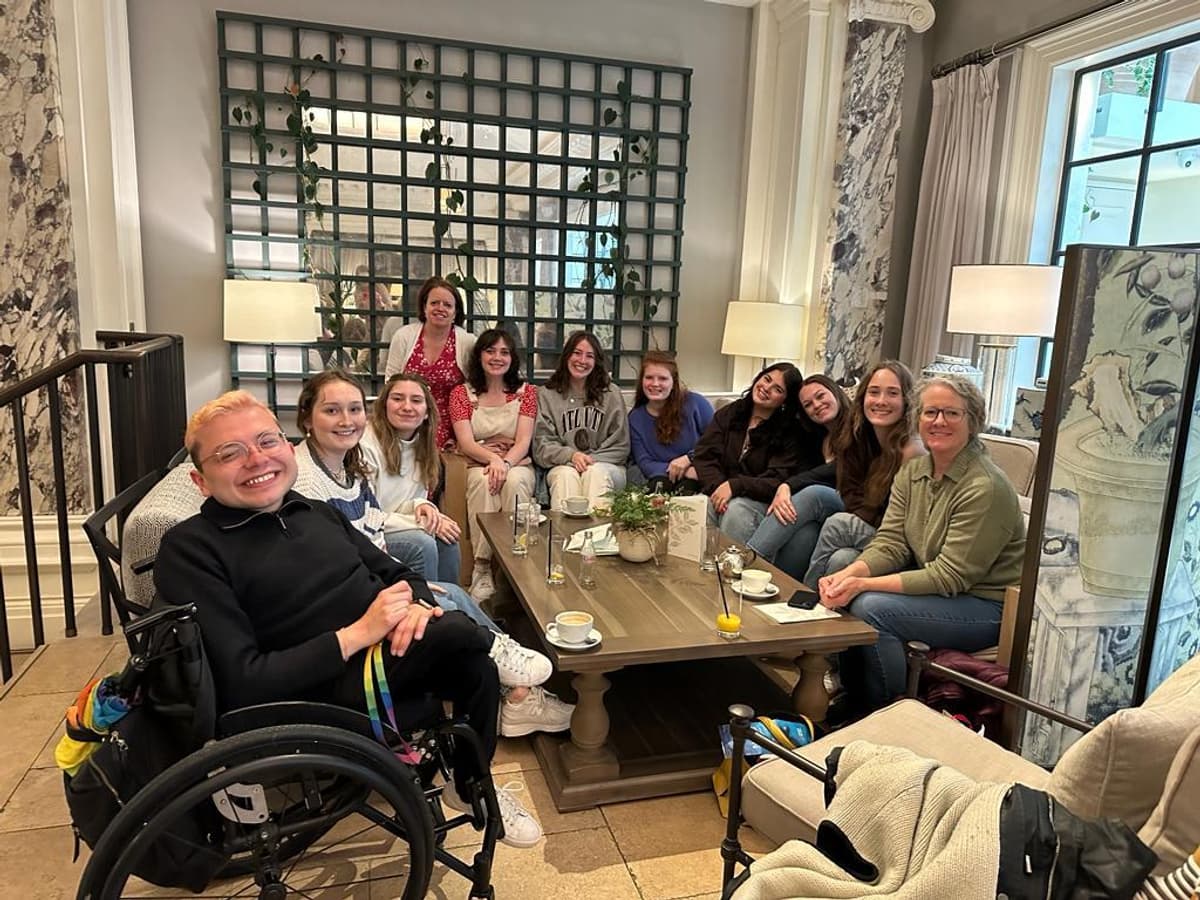 Educating the next generation on accessible solutions
Alison Lyons (Director of Commercial Development) says 'Sesame Access really enjoyed the visit by the Samford Students. It is great that Kinesiology is now a degree subject as it will educate the next generation on the importance of accessibility. The students questions were insightful and showed their dedication to become well educated surrounding accessibility.

Sesame Access want to give a huge thank you to Alex Vasquez for helping to educate the students on all of the challenges faced by people with disabilities. Alex is a powerful advocate for change and we look forward to seeing what else he achieves.

Additionally, thank you to the Kimpton Fitzroy Hotel for showing us the many accessible locations in the beautiful hotel. It is great that accessibility is driving London tourism and is empowering people with disabilities to be able to live their best life.
Don't miss our most recent blog post, "How a Wheelchair Stairlift Benefits Local Nonprofits" – it's a must-read!
We appreciate you taking the time to read this wheelchair lift blog. If you want to learn more about wheelchair lifts, check out our other blogs, such as "How a wheelchair stair lift benefits local nonprofits"
As an additional note, we'd appreciate it if you followed us so you could remain up to date on the latest news and trends as they are revealed.

Follow us on Twitter (@sesameaccess), Facebook (sesameaccess), Instagram (sesameaccess), and LinkedIn (linkedin.com/company/sesame-access-systems) to see what we're up to and our thoughts on the newest breakthroughs in the industry.
Looking for a one-of-a-kind solution? Sesame Access Systems is here to assist you in any way we can!
We're always glad to talk about your access system requirements at Sesame Access Systems, and we can't wait to get started on your project. Sesame Access Systems provides a wide range of services to our clients. We are confident in our ability to assist you in locating the best solution for your requirements.
Get a quote immediately if you need an access system solution that is suited to you and your property's exact needs! To contact us, please dial +44 (0)1784 440088 or fill out this form at sesameaccess.com/contact.
Nothing matches a wheelchair lift for a listed building from Sesame Access Systems.

Sesame Access Systems is unrivalled in the UK as the leading provider of DDA lifts for historical and renowned buildings.
Our staff has vast expertise dealing with listed buildings and offers affordable wheelchair stairlift prices that match your needs and budget while protecting the historical integrity of the property. We've worked on projects all over the country, including properties that are hundreds of years old, so you can count on us to take care of your distinctive building.