Architects
Sesame Access
Project Managers
Arcadis Design Consultancy
Main Contractors
Vinci Facilities
The Building
The Institution of Civil Engineers (ICE) is based at One Great George Street (OGGS) London, a Grade II Listed Edwardian Building a short walk from the Houses of Parliament. It's a popular venue for weddings and conferences, partly due to its good disabled access and facilities. OGGS was the unofficial press centre for the 2012 Paralympics.
ICE is one of the world's leading civil engineering institutions and has been around for almost 200 years. OGGS is the ICE's global Head Quarters.
Sesame has installed two lifts in the ICE's main entrance.
Sesame installed two lifts at OGGS in 2005. Sesame's engineering and innovation has improved significantly since 2005, so when OGGS undertook a refurbishment in 2016, they installed two new Sesame lifts in the same locations. This work was completed in October 2016.
Get me to the church on time!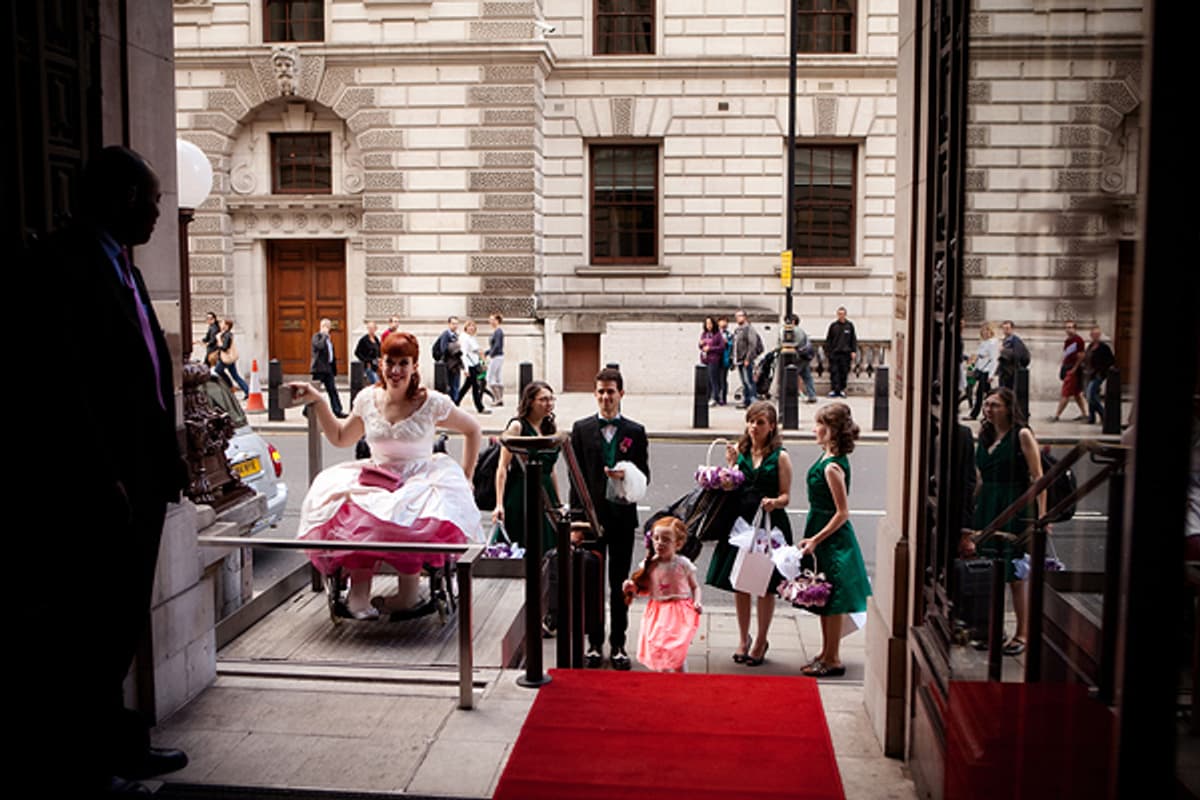 When Nina Muehleman married her husband Bob in 2013, they needed a venue with great disabled access, but it also had to fit in with the magical, romantic vision Bob and Nina had in mind. One Great George Street fitted the bill perfectly. Nina is a PhD student writing about Disability Culture and loves to blog and tweet. Four of Nina's wedding guests also used wheelchairs.
Here is a blog of Nina's wedding at One Great George Street.
Read Nina's wedding blog at OGGS.

"Wow!" moment for Sesame
As Nina and Bob were taking their wedding vows inside OGGS, we wanted everything to go perfectly. Therefore Sesame was waiting in the background, to make sure there weren't any last minute glitches with the lifts (you can see us in the back of the picture in black sweatshirts!). It brought a tear to our eye to see Nina and her guests using our Sesame lift to get to their wedding.